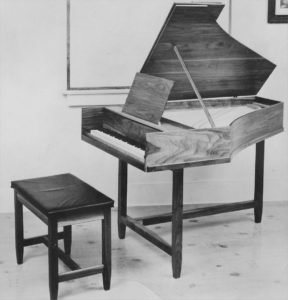 One-manual instrument, Model V,  built by Jones Clayton of California in 1965
Range: c-d, four octaves plus two semi-tones.
Registration:  Two sets of strings, 8′ and 4′ and two sets of jacks, lute stop on the 8′.  The 4′ strings currently do not work.
Case: 54″ length, 33″ width, depth 8″, needs some cosmetic repair, removable legs, 90 lbs.  Folding stand, no bench.
Recently maintained by Paul Irvin. Willing to donate to a school of music, church, or keyboard teacher. Asking $500 to individuals. Located in Portland, OR. Contact Linda Donelson lindadonelson@earthlink.net for more information.