2009 Todd Loomis Beautifully decorated Flemish-style Single-Manual Harpsichord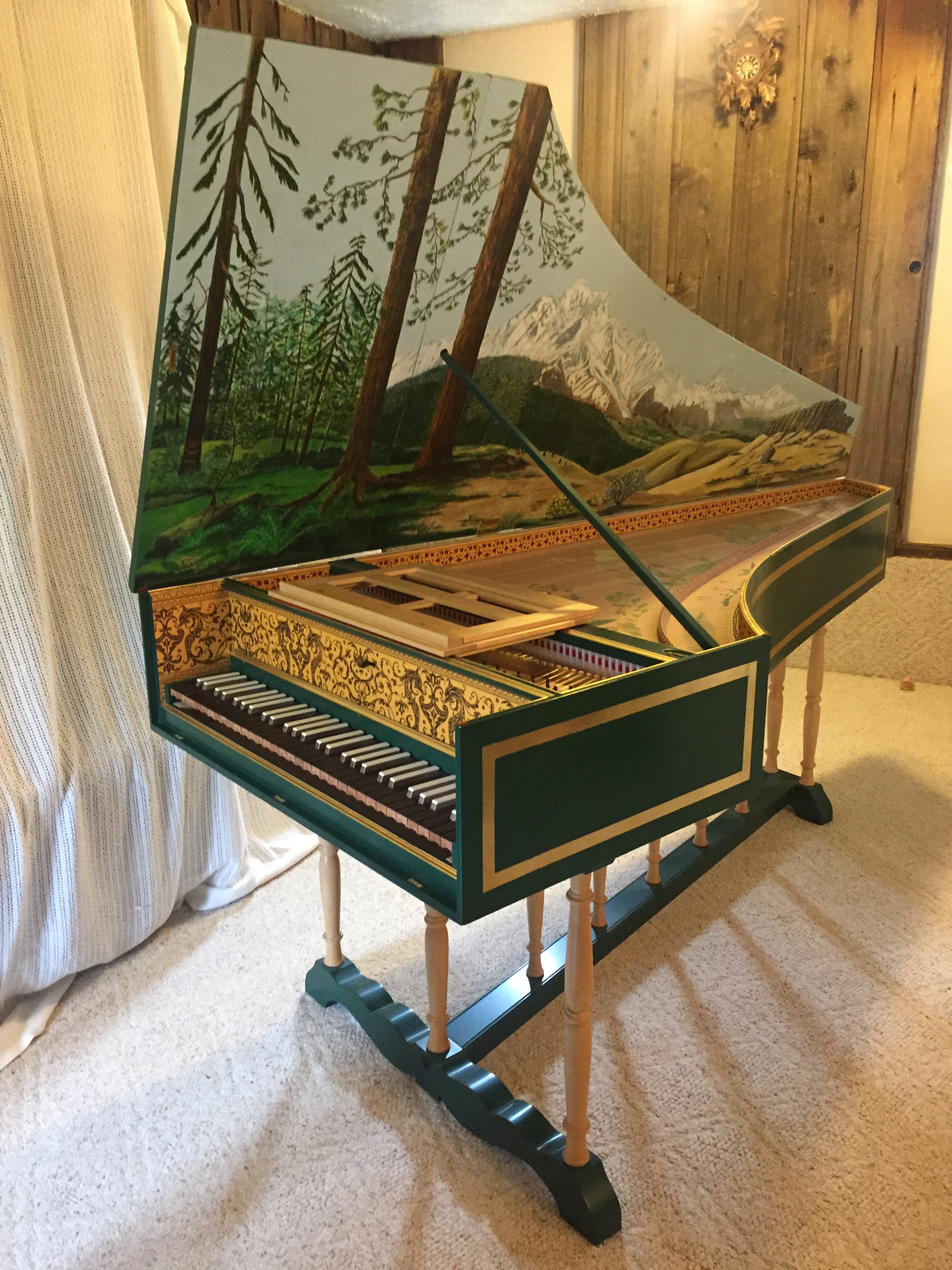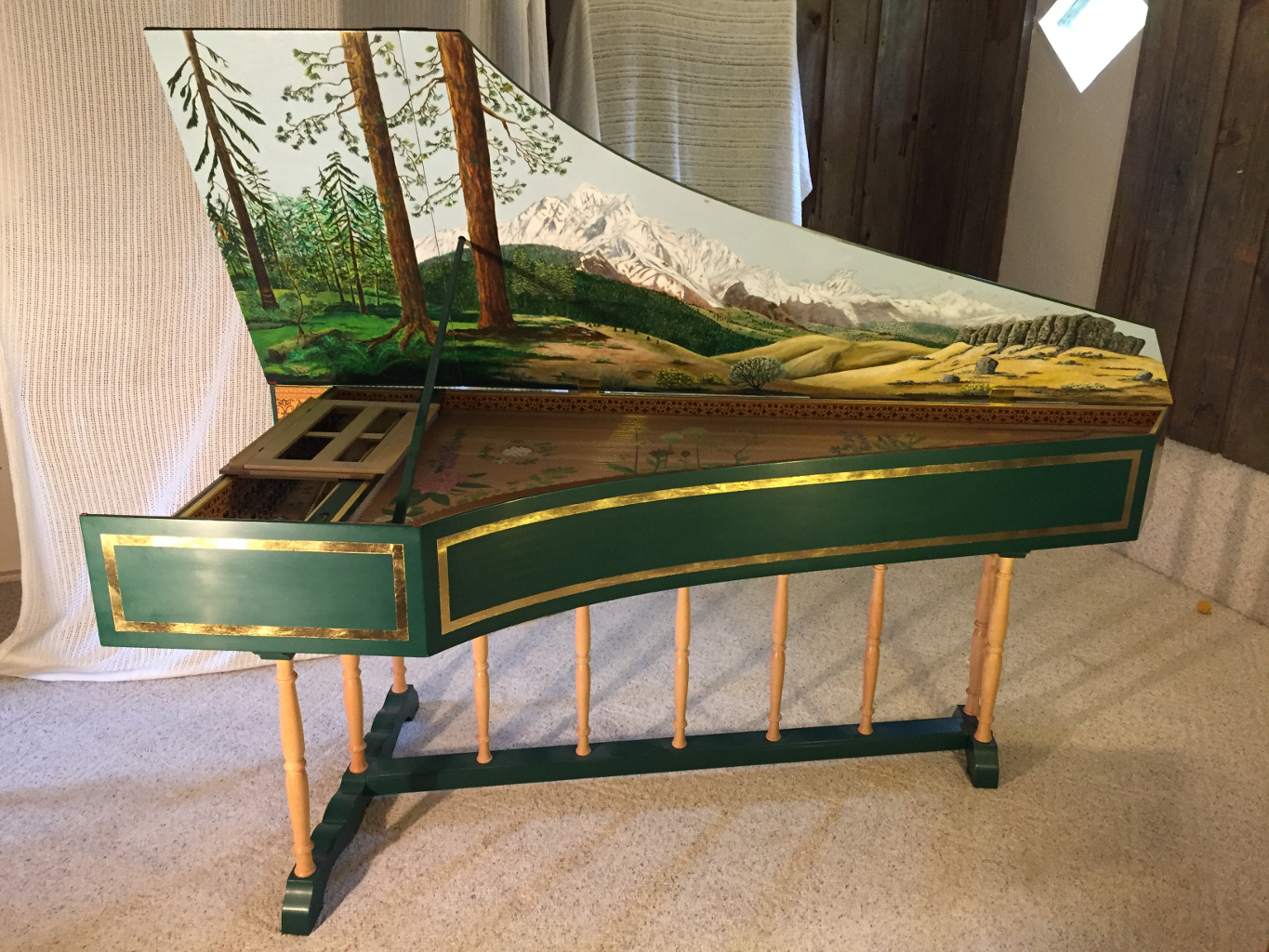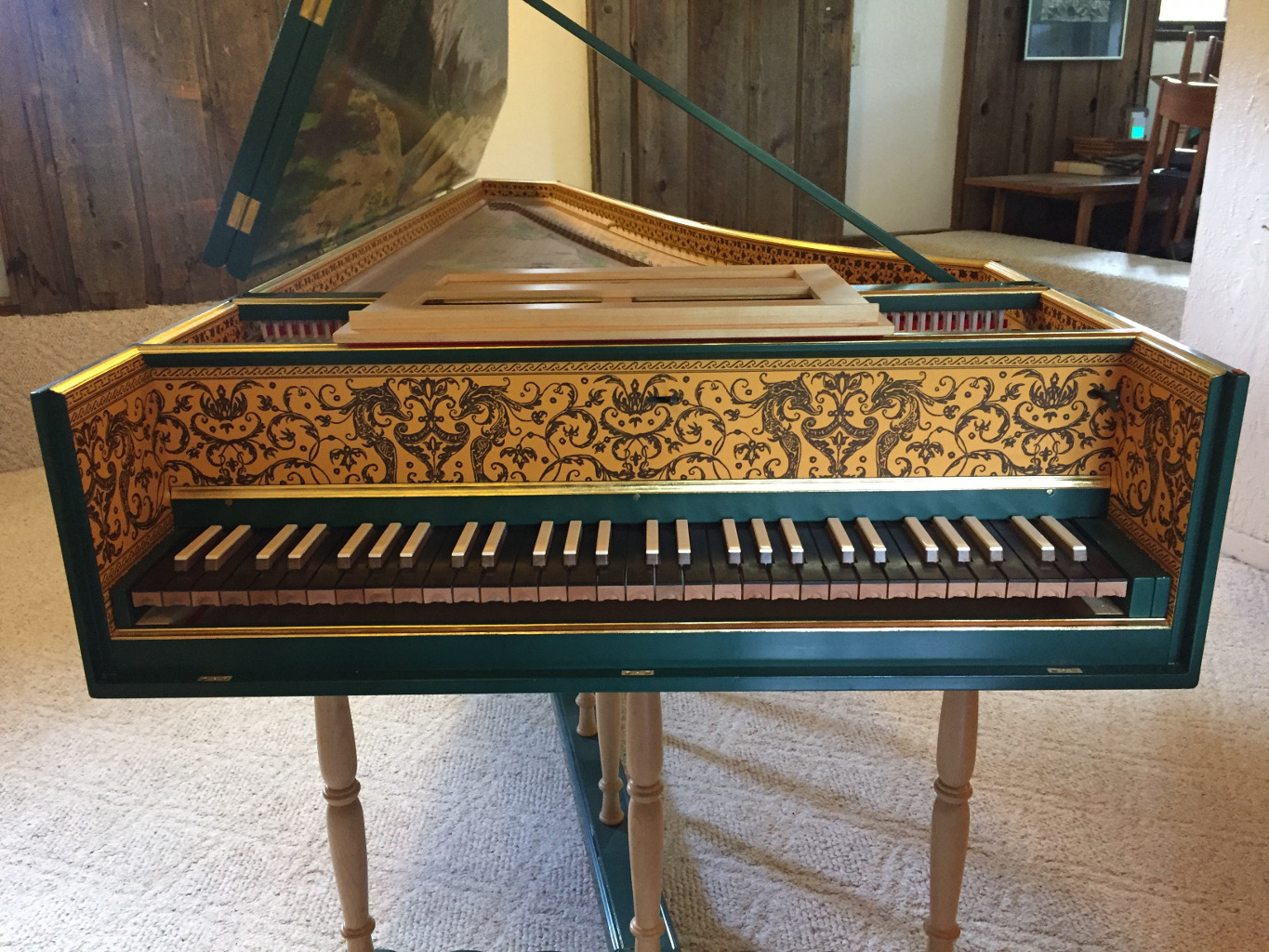 A beautifully decorated, professionally built Flemish-style Single-Manual Harpsichord à petit ravalement, built from a Hubbard kit by Todd Loomis (Stanwood, WA, 2008-09).
Price: $8,500
Specifications:
Extended Range: 58 notes, GG-e"', chromatic, transposing one semitone
Disposition: 2 x 8′, buff stop, handstops
Dimensions: length 6′ 11"; width 2′ 10"
Instrument weight (exclusive of stand): 120 lbs
Decorative hand-painted lid interior and soundboard, with Rocky Mountain scene and flowers.
As described by Hubbard Harpsichords, this instrument "is patterned on an instrument built in Antwerp in 1584 by Hans Moermans."
Following period French practice," Hubbard "preserved the outline and structure of the instrument but enlarged the 55-note, bass short-octave range of the original keyboard to a chromatic span of 58 notes (GG-e"') and adapted the layout to provide a French
18th-century scaling."
"The instrument possesses two choirs of strings at eight-foot pitch (2 x 8′). The design allows for transposition between a' = 415 and 440 Hz – all keys play in either position."
"The instrument has a crisp, free-speaking tone capable of performing the brilliant solo keyboard works of both the 17th and 18th centuries as well as concerti with baroque orchestra. It serves equally well as continuo accompaniment in the chamber music literature of the period. Its most practical feature, however, is its compact size, which makes it a portable companion for the touring professional."
"The layout and touch of the keyboard is that of the 18th-century originals from which the design was derived. The keys are rear-guided by pins running in an unbushed wooden rack at the rear of the keyboard and painstakingly balanced for evenness of touch.
The octave span is 6 1/4″ and the natural key heads are 1 3/8″ long, conforming to 18th-century French practice".
French-style keyboard.  The key fronts are decorated with maple arcades.  The stained hardwood "natural" key heads are rounded and scored with decorative lines.  The stained hardwood, acrylic-topped sharps are tapered in height and width.
The instrument has Hubbard moulded Delrin jack and Delrin plectra with return springs.
Hubbard's "close attention to details. . . results in the light, reliable and, above all, comfortable action favored by 18th-century composers and players – one that these instruments possess."
Loomis' workmanship in building this instrument is superb.  The instrument has been owned and maintained by Loomis.
Currently in Seattle.
Contact George Bozarth