By Stan Ross of Bow, Washington (Anacortes area)
As a new member of WEKA, I confess to knowing little about harpsichords. But the bug has bitten and I'm currently hooked. This is due, in part, to being married to a musician, and to the fine, supportive members I've met through this organization. My first encounter with "talking the talk" was at the stringing workshop by Todd Loomis. This was all I needed, plus an unfinished instrument, to dive head first into unknown waters.
My first harpsichord project resulted from purchasing an unfinished Hubbard Flemish single for my wife's Baroque trio. The case was beautifully constructed and painted. The only things needed to be done to bring the instrument up to a performance level were pinning, stringing, completing the jacks, attacking an untouched frozen keyboard, all felts, regulation, and voicing, none of which I had any experience with. This unfinished "funny shaped box" as one colleague termed it, had traveled through Washington, California, Nova Scotia, and back over the last 35 years and was still in excellent condition. I figured if the case and soundboard held up through all of this, it was worth a shot.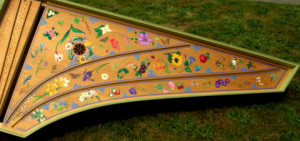 Once in my workshop/studio, (depending on the thickness of sawdust), I went to work; no, not on the mechanics, but on the painting. You see, I've been an artist all my life, but a harpsichord enthusiast for only a few days. How could one turn one's back on a beautiful, blank sound board?
First things first; I had to develop a design that reflected traditional Flemish style, but also one a little more current. I did not go for historic accuracy, but one hinting at tradition, reflecting personal taste. I decided to paint flora and fauna from springtime up front to winter in the tail; seasonal flowers, plants, insects, and birds.
Once the mechanics were completed, (with much reading, studying, and research on the internet), and the instrument playable, I concentrated on the lid mural of a cottage scene also spanning the four seasons.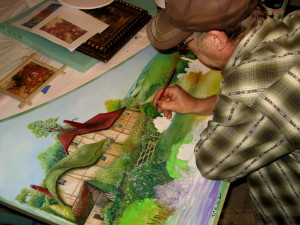 Although this project has a big part of me in it, the instrument is not mine. This was a labor of love, all volunteer, just to see if I could do it. As it turned out, after two concerts, it is performing well and receives much attention.