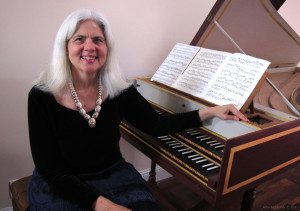 Q: What brought you to the harpsichord?
A: My older sister loved music and introduced me to harpsichord recordings; my favorite composer was Bach. As a solid child pianist in the Bay area, I graduated early at age 16 and pursued musical study in 1968 at UC Berkeley. My sister encouraged me to check with the music department to learn if the school had any harpsichords. Yes, there were not just one, but two instruments by Martin Skowronek in the department! On first playing, I discovered that my piano technique was completely inadequate and I thought I should take some lessons. I had the good fortune to study with Alan Curtis who had recently joined the musical faculty. I recall a memorable moment practicing Rameau while hearing the effects of tear gas being used outside and thinking of Landowska making her recordings while hearing bombs dropping.
Q: Where did you further your studies?
A: At Curtis' suggestion, I studied with Gustav Leonhardt, having my first lesson on January 1, 1980, for a total of ten lessons. In summer of 1980, I played in the Brugge harpsichord competition, succeeding to the second round as a semi-finalist. I subsequently graduated from the San Francisco Conservatory of Music with an MA. During graduate school, I studied harpsichord and fortepiano with Laurette Goldberg, and fortepiano in Ithaca, New York, with Malcolm Bilson.
Q: What was the focus of your recording and concertizing?
A: I've made four recordings: Byrd Grounds and Variations, Haydn English Love Songs with Judith Nelson and two sets of Scarlatti sonatas,. One of the Scarlatti recordings received the Critics Choice Award from Gramophone (Editors Note: All are available from Amazon.com). I have concertized throughout America and was for many years a California Arts Council Touring Artist. I currently have a "Musical Waves" concert series. (See http://musicalwavessf.com) My upcoming performing season includes Stanford faculty recitals, Bay Area performances of Bach's Fifth Brandenburg Concerto, solo recitals in California and lecture-recitals for Music Teacher Associations focused on understanding how musical gestures contribute to shaping phrases. I have been playing harpsichord for 45 years and now place more emphasis on the musical legacy that I can pass on to my students through teaching. I've had wonderful students at Stanford in the past 17 years, including: Michael Peterson, Mahan Esfahani, Xavier Arreola,, and currently Lisa Wang and Adam Detzner.
Q: How did you gain experience with non-profit organizations?
A: I was very impressed with the summer institutes offered by the Aston Magna foundation (See http://astonmagna.org) and participated in the 1981 and 1982 arts and humanities intensives, which brought together music, visual arts and the humanities. This inspired me to give birth in 1983 to the non-profit, Humanities West (See http://humanitieswest.org). This organization is still going strong, offering lectures and performances in fine arts, social history, music, politics, and philosophy of the arts. For the first eleven years, I produced Humanities West weekend programs three times a year. The 1992 program on Jefferson: Architect of the American Vision attracted over 2500 participants. In addition to Humanities West, I had hopes for creating change in society. I obtained a planning grant from the National Endowment for the Humanities to start the organization, Forum For A Changing America, but it did not receive full funding for the proposed project. And finally, for 1983/84, I was president of the San Francisco Early Music Society.
Q: What led you to found WEKA?
A: I believed that the Bay area early keyboard scene would benefit from an organization to build community. I invited other harpsichordists to help build the vision, including Laurette Goldberg, Kathy Perl, Kevin Fryer, Gilbert Martinez, Charlene Brendler and Tamara Loring. They were positive and contributed to the founding of WEKA in 1997. Our initial focus was then on producing an annual conference. The conference was held in Berkeley every other year, and in alternate years we went to locations such as Portland, Seattle and the National Music Museum in Vermillion, South Dakota. Our 2003 Vermillion conference was "Four Centuries of Great Keyboard Instruments: What They Tell Us," conducted with the midwestern and southeastern early keyboard societies. Kathy Perl, Tamara Loring and I also offered master classes that were well attended. I was president for many years, and was very pleased when Barbara King took on that responsibility. The organization has been significantly strengthened by the activity of past and current Board members. The WEKA focus on local events has increased substantially, with occasional day-long conferences. I think we've been very successful in building community!
Q: What do you hope for WEKA in the future?
A: I am no longer on the Board, but am an active part of a local group designing programs for the Bay area. I also spearheaded a major appreciation of Gustav Leonhardt presented by WEKA and Music Sources in conjunction with the 2012 Berkeley Festival. I'm excited that we have a strong focus on programs that educate and engage us in dialogue, even in arcane corners of interpreting early keyboard music. And I hope we can encourage young people to study and enjoy the sounds of early keyboard music on appropriate instruments!