On April 23rd, a g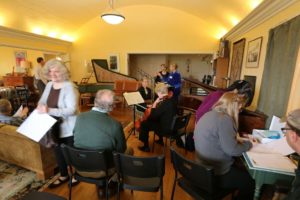 roup of WEKA members and friends gathered at the lovely home of a Portland early keyboard enthusiast for an afternoon of delightful activities.
We met in a large, beautiful music room with excellent acoustics, well equipped with a fully and authentically restored 1840  Stodart Grand Piano and a 1986 Zuckermann Franco-Flemish harpsichord.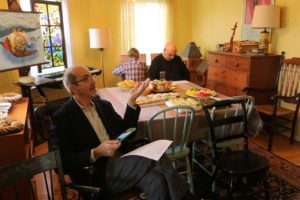 Nine performers shared their talents with the group, providing a lovely variety of repertoire on both the instruments, as well as a clavichord brought by one of the performers.
Excellent food was enjoyed.  Attendees spent time discussing their interests and shopping for bargains  from a large collection of used music scores and books which had been donated toward WEKA's support.  The unsold items are now available for purchase online.
WEKA FUNDRAISER SALE OF USED SCORES/BOOKS See the listing here.
PERFORMERS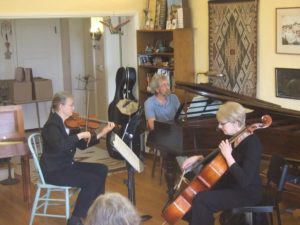 Cascadia Piano Trio: Lori Stole (violin) Portland Columbia Symphony and Newport Symphony; Suzanne Rague (cello) Vancouver Symphony and the board of Friends of Chamber Music; Paul Hanau (piano) principal trombone and occasional piano/celesta for Beaverton Symphony Orchestra
Ludwig van Beethoven – Piano Trio in Bb major No. 7, Op. 97: Allegro moderato; Scherzo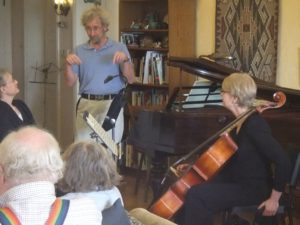 Paul Hanau – Lifelong amateur devotee of piano/ harpsichord, occasional builder of instruments
Franz Schubert – Impromptu in Gb, Op 90. No. 3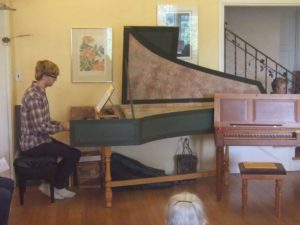 Gregor McGee – Student of Leta Huang, Junior Linguistics major at Reed College
Girolamo Frescobaldi – Toccata Prima, Libro Primo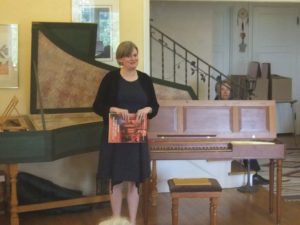 Ellen Wasil – Student of Margaret Irwin-Brandon; Executive Director of Portland Piano International
Three short selections from Elizabeth Rogers Hir Virginall Booke
Angeline Case-Stott – Professor Emeritus, University of Memphis, in Piano and Harpsichord; WEKA Board Member
CPE Bach – Sonata in G Major (1783) Wq 65/48: Adagio e sostenuto; Andantino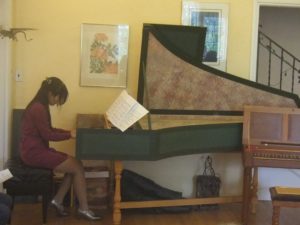 Alice Sheu – Portland pianist/harpsichordist – http://www.alicesheu.com/
JS Bach – Toccata in D Major BVW 912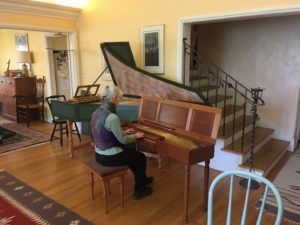 Karen Hudson-Brown – Piano tuner/technician, 30 years in Charlotte, NC.
Playing her own instrument: Fretted Clavichord by Paul Y. Irvin, 1984, after Hubert 1784
JS Bach – Notebook for Anna Magdalena Bach: Minuets in G-g-G
Mary Lou Paschal – Suite on the Augmented 4th for Clavichord
Herbert Howells – Lambert's Clavichord
JS Bach – WTC Book I: Prelude Bb Major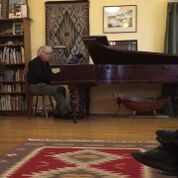 Owen Daly – Salem Harpsichord/Clavichord Builder – https://www.dalyharpsichords.com/
Felix Mendelssohn – Venetianisches Gondellied, Op 30, No. 6
Felix Mendelssohn – From Sechs Lieder ohne Worte, Op. 62, No. 1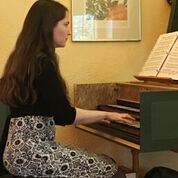 Hannah Brewer – Portland organist/accompanist – http://www.wildwoodconsort.com/hanah-brewer/
Johann Kuhnau – Biblical Sonata No. 4: "Hezekiah's Sickness and Restoration"
We look forward to our Soirée event next year!