On June 5, 2017 an enthusiastic group of piano teachers gathered at Reed College to learn about Baroque performance style from veteran piano teacher and harpsichordist, Leta Huang.
The attendees explored fundamental aspects of baroque style, honoring the instrumental characteristics of the piano (versus the harpsichord, organ, or other keyboard instruments), and grounding style issues in the nature of the music itself. Through close reading of select two-voice pieces, the topics explored included metrical hierarchy, independence of voices, shaping of lines, the roles of dissonance and consonance, and notation versus performance practice.
The workshop was highly interactive and included both whole-group and small-group work with access to both pianos and harpsichords.  The attendees left expressing their eagerness to participate in future workshops, particularly on the topic of ornamentation.

Harpsichordist and pianist LETA HUANG is a multi-faceted artist and educator. She holds advanced degrees in music performance, creative writing, and teacher education from the Eastman School of Music and Syracuse and Stanford Universities, as well as an undergraduate degree in biology from Stanford. Her solo and ensemble performances have taken her to major cities throughout the United States, and with the Salanki-Huang Harpsichord Duo she performed with Four Seasons Baroque Society, on public radio, and in the Boston Early Music Festival Exhibition. Her teachers include harpsichordists Arthur Haas and Hedi Salanki and pianists Carol Rosenberger and Sheldon Steinberg. In masterclasses she has worked with other luminaries such as Jeanne Lamon, Malcolm Bilson, Kenneth Gilbert, and Skip Sempé.
Leta began her musical training on the piano and won several national and international prizes, including first place in the International Young Artists Peninsula Music Festival and second place in the Young Keyboard Artists Association International Piano Competition. Her honors also include Four Seasons Baroque Society's Outstanding Performer Award, the Stanford Humanities and Sciences Prize in Music, the Irene Hardy and the Michael Jasper Gioia Poetry Prizes, numerous academic fellowships, and publications as a poet and an educational researcher.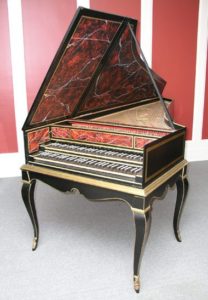 Dedicated to both student and teacher learning, Leta served as Lead Teaching Consultant at Stanford's Center for Teaching and Learning, supporting graduate instructors and teaching assistants in a variety of fields, and as a visiting lecturer at Taiwan National Central University, working with teachers-in-training. Leta began teaching piano at age 15 to other kids in her neighborhood. A passionate proponent of lifelong learning, she now teaches harpsichord, piano, and chamber music to diverse learners across the life span, including exuberant children, adults growing and reclaiming their love of music, learners with neurological disorders, and professional performers and teachers. She learns a great deal from and with her students. Leta also gives masterclasses and workshops on baroque performance practice and repertoire, adjudicates for Music Teacher Association baroque festivals, and serves on the board of the Western Early Keyboard Association. She is based in Palo Alto, CA, and in Portland, OR, where she teaches at Reed College.